A barrel on the neck of a great Saint Bernard has become an iconic image of this dog breed, these dogs began to be used as guides on a mountain road called Great Saint Bernard Pass that goes between Switzerland and Italy this route was about 80 kilometers and had countless dangers.
The San Bernardo were raised in a monastery that was on this route and served as a shelter for travelers who began or were on this journey, over time the monks realized the great sense of location and smell of these animals, it was this that they began to be used as rescue dogs, by the way, they were first breed of dogs in this line of work.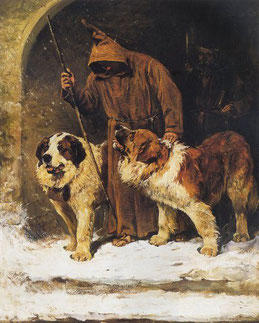 It is said that the iconic wooden barrel hung with a leather strap around San Bernard´s neck contained Brandy and this served to provide warmth to travelers who were crossing through the snow and gave time for humans to arrive at their destination, normally the dogs were the first to approach.
However, according to the story, it is said that the barrel was never part of the official equipment they used for rescue work, experts also comment that giving alcohol to a person with hypothermia is the worst thing that can be done since alcohol dilates blood vessels and the temperature of the organs decreases.
So why the barrel associated on the dog's neck? This association that we have of the dog with the barrel is awarded to the British painter Edwin Lardseer (1802-173) who made a painting in 1820 called "Alpine mastiffs resuscitating a traveler in distress" in this painting portrays a person who is being rescued for two San Bernard and one of them has a barrel hanging from the neck, it is said that this work is in honor of Berry a San Bernardo who lived between 1800 and 1814 becoming a hero by saving 40 people in their rescue work.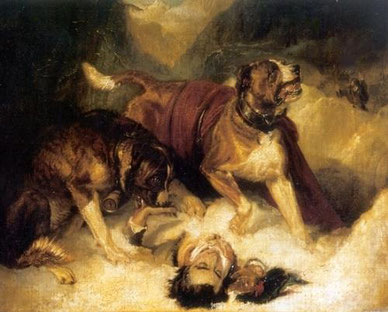 Although the story clearly reflects that the barrel on the neck of the Saint Bernard for rescue work is a myth, this barrel and the dog have become an emblem of Switzerland and even in the shop of the monastery of Saint Bernard you can find it as a souvenir.
Made by Barriles la Arboleda