Before entering in depth we would like to comment that we are not experts in the topic of chip use, we will only talk about what our clients and friends have experienced in using wooden chips.
The use of chips is increasing every day, mainly in the wine industry and lately in beer, to be more specific in craft beers, lagging a little behind the use of chips in spirits.  
There are producers in favor and others against using them.
The chips have two major benefits that help solve several problems, one of these benefits is space and the other would be price. to work with chips, it can be done from larger containers that give better use in the cellars and not take more space using larger barrels and on the other hand the investment in chips is much smaller than in a barrel.  
The other issue is time, since the producer has total control of the contact between the wood and the beverage, the processes are faster than being in the barrel where the contact space and the amount of liquid are already determined.  
Similar to the barrels there are different char and toasting levels on the chips, greater intensity in the toast offers your drink less complexity with flavors and aromas of coffee, coconut or caramel and light roasts will offer greater complexity and fruity flavors.  
When using the chips, you must be careful and be constantly monitoring your drink as it tends to give fast results, therefore, it can reach very dark colors and very aggressive flavors if they are not removed in time.
The amounts of chips that we suggest you use is 1 to 10 grams per liter, this will vary depending on the toast, the type of cut and mainly on the result you want to reach. 
We have been fortunate to have been able see a great innovation in this product since you can find it in many different shapes and sizes. You can obtain them in splinters, strips, pieces, chip etc., without a doubt each chip maker can provide their own original touch.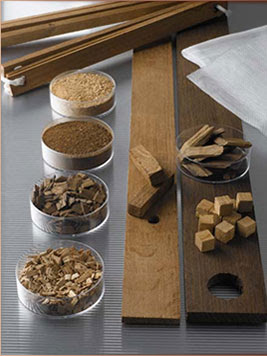 However, as we mentioned before, not everyone is in favor, it is also not always recommended to be used and add into all types of alcoholic beverages.  
The barrel besides from having contact with the liquid for a short, medium or long term period plays with the supply of oxygen which makes oxidation slower and making the end result very difficult to be obtained by using chips, we do not mean by this that the use of chips is bad but you would need to keep in mind must be the time, investment in their processes and mainly on the final consumer to whom it is addressed.
We believe the wine industry is a pioneer in implementing wooden chips in a wide range of products that have high quality and are accessible in price.
Just behind the wine industry are all the craft breweries, the use and experimentation of wooden chips in beers have been increasing throughout the years, and finally in a more conservative market are the spirits that these still opting to use barrels, although they are already beginning to perform tests and in the future it also looks like use of chips will be more involved during their elaboration process.
Although many alternatives are appearing such as chips, reimplementation of clay or cement containers and the increasing use of stainless steel, we believe that the relationship between drinks and barrels, which is already more than two thousand years old, is and will remain strong and will continue to grow.
In conclusion we would like emphasize that the chips allow total flexibility in times, use less space, low costs and a total domain of the producer, while the barrels offer complexity, greater contribution of tannins and being able to continue with a tradition of more than two thousand years.
If you have any questions, please feel free to contact us.
Made by Barriles la Arboleda