Today we invited a person who already has several years being in our team and a lifetime dedicated to this beautiful job, to tell us a little about what happened, is happening and thinks what will happen with the trade of the coopering, Don Miguel throughout all these years has proven to be a passionate person in his field of work, that shares what he knows and learns from the changes that have been presented in the manufacturing processes, teacher of teachers for whom we work at BARRILES LA ARBOLEDA.
What is your full name?
Miguel López Buñuelos 
How long have you been a cooper?
48 years.
How did you choose this type of job?
Before working as, a cooper, I worked distributing bread in the neighborhood, one day by chance, some neighborhood invited me to work with them when I was twelve years old.
I started polishing the metal strap used for the hoop, I burned it on a chip that was set on fire and I had to move it constantly to give it pigment, later with a flannel I removed the char.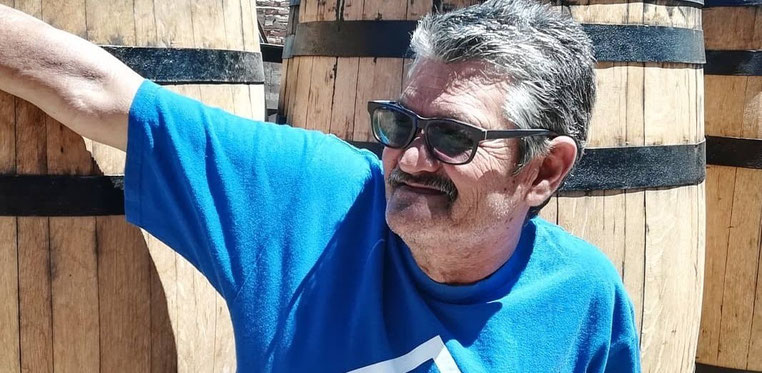 How was the manufacturing process 48 years ago?
It was 100% handmade, no machines were used, our materials were fresh oak wood which were placed in the sun to lose moisture, hammer head and tip (to make cuts), we obtained this strap from a factory of clothes, previously used for packaging and we only bought the leftovers; rubber, obtained from a natural resin, these pieces were dissolved in cane alcohol (higher quality) or industrial alcohol (lower quality), wooden spigots were not used but we used plastic spigots and instead of using a wooden bun we used a cork.
Wax was placed throughout the interior of the barrel in order to prevent fresh wood from adding a bitter taste to the tequila.
What do you like most about the process?
I could not mention any point is specific, since it is a trade that I enjoy 100%. It is something that love, I would like to thank the coopering trade because it has brought many positive lessons that I have been able to apply throughout many stages of my life.
What do you not like?
Probably because of the fact that the whole process y very laborious and that you have to be very precise in many of the steps, every detail in the elaboration of a barrel is important to be able to produce the final product.
I also consider that the work of the cooper must be more recognized, I can affirm that there is very little recognition for the coopers, being a work that needs dedication, love and above all a lot of patience.
How much time do you consider necessary for a person to learn how to make a barrel? 
Nowadays contemplating the machinery, approximately 3 to 4 months, years ago a person took about 2 years to learn the whole process for the production of a barrel.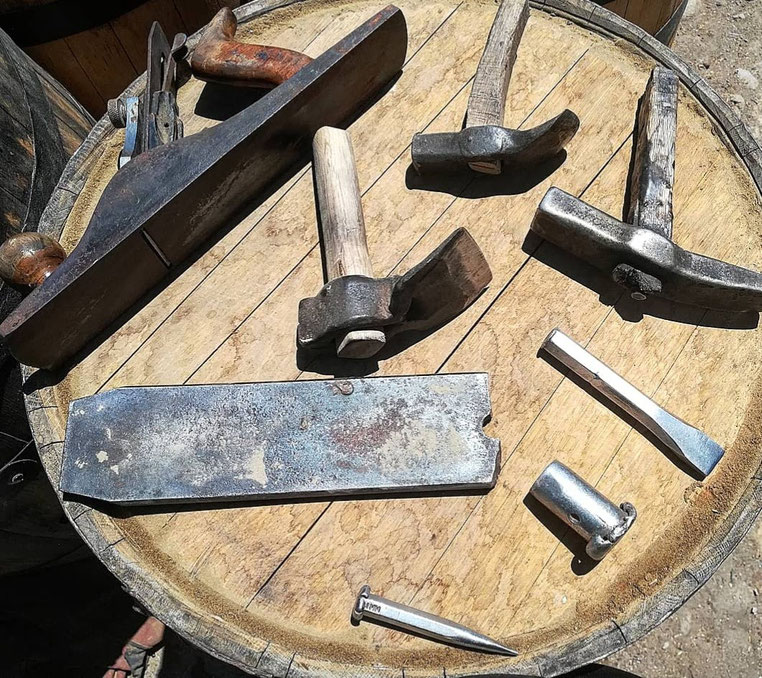 Is there some interesting story that you have lived through since working as a cooper, that you would like to share with us?
I could not indicate any specific story, but the most important and most rewarding in my profession has been to be able share my experience and knowledge with many people, it has also become a family trade, generation after generation. This is the fourth generation!
How many pieces does a single person manufacture on average?
It depends on the sizes of the barrel, for example:
1 to 3 Lts
15 barrels approximately on a daily basis.
5 Lts
8 barrels approximately on a daily basis.
10 Lts
5 barrels approximately on a daily basis.
20 Lts
3 barrels approximately on a daily basis.
50 Lts
2 barrels approximately on a daily basis.
100 Lts
2 barrels approximately on a daily basis.
180 Lts
1 barrel approximately on a daily basis.
200 Lts
1 barrel approximately on a daily basis.
Before by the artisan process we made only 5 barrels of 1 liter a day, it was quite exhausting to make barrels with larger capacities, so the coopers only manufactured 1 to 10 liters.
How do you imagine the coopering trade to be in 10 years?
More automated, probably with operations that contribute to the development of barrels in a more efficient way.
Have you ever thought about changing your trade?
Yes, for learning different things.
Do you think the cooperage continues to retain its craft essence?
I think not, because before everything was manual and in the end that is the essence of any craft; its beyond offering a product you offer dedication, commitment and love towards your work.
Are there any changes that have been implemented in the processes that you disagree with?
No, since the processes implemented are to provide greater efficiency and quality in our products.
What personal message could you give us based on your experience?
We must never give up, I was an orphan since I was six years old and I had to learn to get ahead, the main factor will always be the attitude with which you learn to live, love, smile, make those around you laugh, don´t lose your essence and love that brings sense to ones life .
Date of: September 29, 1959
Place of Birth: La Joya, Magdalena, Jal.
"Always keep looking forward"
Interview conducted by Daniela Rivera Salas